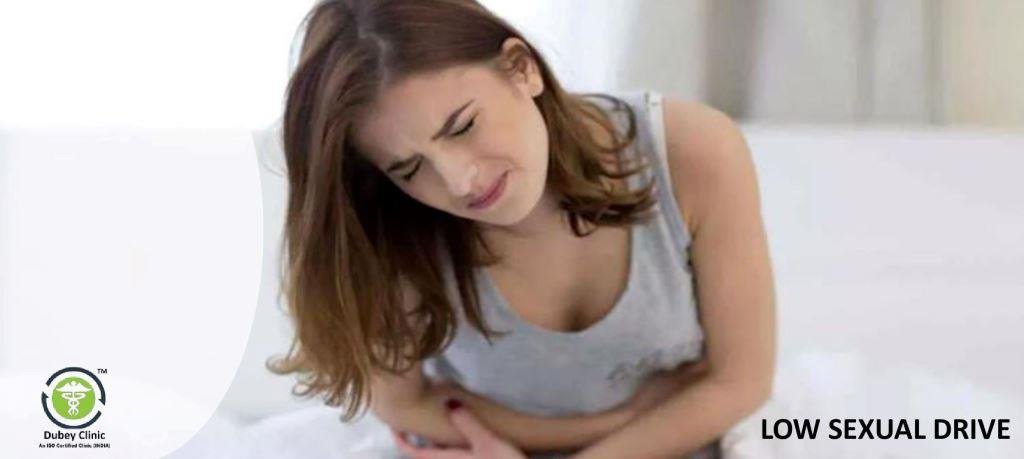 By : Dr. Sunil Kumar Dubey

Published : 22 July 2023
Low Sex Drive In Women Treatment
An overview of Low Sexual Drive in Women:
Women sexual desire spontaneously fluctuates over the years due to physical, mental, psychological, and accidental reasons. The fluctuation of this sexual desire in women takes place in her life due to physical reason like pregnancy, menopause or illness. Psychologically, the ups and downs in relationship are also cause of low sexual drive. The excess use of allopathic medicines for mood disorder can cause of low sex drive. If you are losing your sexual desire then you must change your life-style.
Symptom of Low Sexual Drive in Women:
First of all, people should understand that the foundation of relation and the pleasure of intercourse both are different thing.
1. No curious in masturbation or any other sexual pursuit
2. Having no any sexual fantasies or thoughts or only seldom at a time
3. Concern over a lack of sexual activity or any sexual fantasies

Low sex drive is not a serious matter to the couple if they are mature and understand the difference between relationship and sex.
Causes of Low Sexual Drive in Women:
Dr. Sunil Dubey has said that there are many things affect to the low sex drive in women life- physical causes, hormonal changes, psychological causes, and relationship issues. Mainly, these four factors almost affect a woman in her low sex drive. In details, we would know about the four causes.
Plenty of diseases, physical changes, and medications can cause low sexual drive:
1. Sexual Problems: If a woman has pain during intercourse or she can't orgasm, it can reduce the sexual desire.
2. Medical Disabilities: High BP, Diabetes, Neuro-Disease, Coronary Artery Problem, & Arthritis
3. Medicines: Certain Medicines like- Antidepressants is also known to the decrease the sexual drive.
4. Lifestyle Habits: A little pack of wine may put someone in mood, but too much alcohol can affect the sex drive. The same thing is true about street drugs. Smoking not only decreases blood flow, but it also may dull arousal.
5. Surgery: Related to breasts or genital tracts
6. Fatigue: After caring a family contributes to low sexual drive reason because of tiredness. Due to surgery or illness, fatigue also plays a big role to decrease the sexual drive.
Hormone changes:
Due to hormonal changes, it is common to decrease the sexual drive in women.

Menopause: Due to menopause transition, Estrogen hormone level in women fall down. However, many women get satisfaction after menopause but it is sure the changes of hormonal issues make them low- libido.
Pregnancy & Breastfeeding: During pregnancy time, hormonal changes are a common thing in women. Just after having a baby, during breastfeeding also makes them low sexual drive. Here hormonal and child responsibility put them away from the sexual drive for sometimes.
Relationship issues:
For many women, sexual intimacy should be emotional, reflecting the strength of their relationship. So having problems in a relationship can affect sexual desire as well. Current problem also causes lack of interest in sex. 1. Lack of connection with your partner 2. Unresolved conflicts or fights 3. When sexual needs and preferences don't match
Trust issues:
If the partners have doubt or misunderstanding towards each other, then both will have less attraction towards each other and it will be pushed towards low sexual desire. It is very important for partners to trust each other, which will increase their love and care. Here our Asia's best sexologist and Ayurvedacharya Dr. Sunil Dubey says- Whenever a woman feels that her sexual desire is decreasing, consult a sexologist doctor once and adopt only Ayurvedic medicine and treatment throughout the time. Dubey Clinic is providing all medicines and treatment of Sexual Dysfunction along with Naturopathy and Ayurveda Medicare Supplement which provides all time support to the patients.